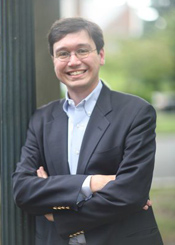 John R. D. Celock
An award-winning writer, media affairs consultant and author, John R.D. Celock is the president of the Celock Media Group and editor of The Celock Report. Prior to launching the Celock Media Group, he was the state politics reporter for The Huffington Post, launch editor of Westfield Patch and a real estate development and political reporter in New York. He is the author of The Next Generation: Young Elected Officials and their Impact on American Politics. He regularly speaks to groups about journalism, young elected officials, community engagement and state politics.
Mr. Celock's work has been recognized by the New Jersey Press Association, the New Jersey Chapter of the Society of Professional Journalists and CapitolBeat: National Association of State Government Reporters and Editors. He is a board member of the New Jersey Civic Information Consortium, a former executive committee member of the Columbia Journalism School Alumni Association and a former member of the Township of Cranford Recreation and Parks Advisory Board.
Mr. Celock holds a B.A. from Niagara University and a M.S. from the Columbia University Graduate School of Journalism.